Skin Rejuvenation & Facial
Signaling A New Day In
Skin Revitalization
Signaling A New Day In Skin Revitalization
PICOSURE's unique energy delivery is a breakthrough for patients' seeking a way to improve their skin and reduce signs of aging but who don't want to deal with the risks, pain and downtime of traditional laser treatments. Using highly targeted energy, PICOSURE gently disrupts the particles responsible for a range of pigment conditions like freckles, sunspots and other discoloration.
But there's more. With the revolutionary Focus lens, PICOSURE harnesses the latest breakthroughs in medical science to improve wrinkles, age lines and even acne scars. Unlike other lasers with similar results, PICOSURE doesn't rely on heat to burn away and destroy skin to force the body to heal.
Your body already has what it takes to help you look and feel younger. Let PICOSURE put it to work for you.
Recent discoveries have begun to reveal the secret language of the body and how cells talk to each other to keep us healthy. Known as cell signaling, this biological communication occurs when cells are injured and release proteins, which are then detected by surrounding cells to trigger a healing response.
Other lasers promise to treat wrinkles, acne scars and blemishes. But only PICOSURE and its PressureWave technology can deliver impressive results without the inconvenience, pain and downtime of other procedures. With PICOSURE, there's no special prep and procedures typically take about 10-15 minutes. Most people experience no pain and describe treatments as feeling like the snapping of a rubber band, but your treatment provider may offer numbing cream to minimize any possible discomfort.
After treatment, most patients experience only 1-3 hours of minor swelling and redness. Because PICOSURE doesn't burn and damage the surface of the skin, make-up, moisturizes and sun screens may be applied immediately following treatment.
With PICOSURE, reducing unwanted wrinkles, acne scars and pigment is more convenient than ever before. Fast, gentle treatments mean you don't need to disrupt your busy life to achieve real improvements.
Minimal swelling or redness—just 1–3 hours
No need to cover up
No need to miss work or leisure activities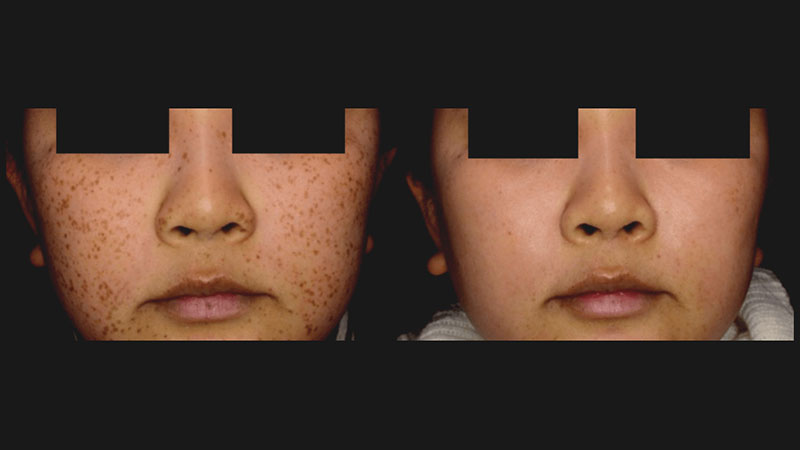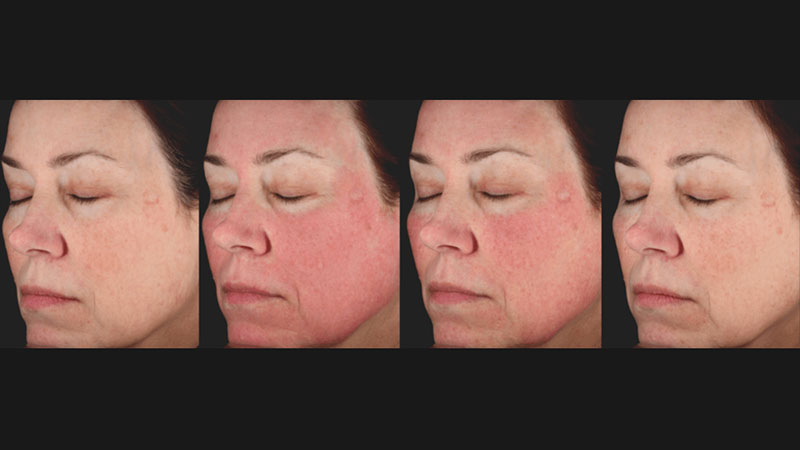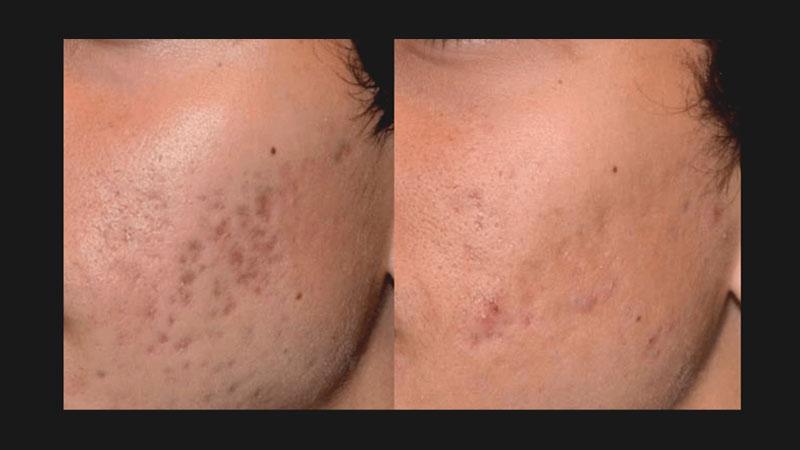 All Skin Types. All Tattoo Types. No Matter How Stubborn.
PICOSURE is the world's first picosecond laser and the only advanced tattoo removal laser with PressureWave technology, which works with your body to remove unwanted ink. PICOSURE delivers laser energy that specifically targets tattoo ink, resulting in the successful shattering of just the ink particles without harming the surrounding tissue.
Best of all, PICOSURE tattoo removal often requires fewer treatments than traditional laser tattoo removal.
How Does PICOSURE Tattoo Removal Work?
Lasers do not remove tattoos, your body does. Naturally. Let PICOSURE help. During treatments with PICOSURE, PressureWave technology is used to deliver ultra-short pulses of specialized energy to targeted ink particles. These pulses are so rapid they cause a change in pressure that breaks ink apart into tiny dust-like particles. These tiny particles are then absorbed by the lymphatic system, a critical part of your body's immune system, and eliminated naturally.
Treatments for an average sized tattoo typically take about 10 minutes, but larger or more complex tattoos can take longer.
Laser tattoo removal has been described as feeling similar to the actual tattooing process. PICOSURE relies on pressure changes instead of just heat to break apart ink particles but some patients may feel some discomfort. Your treatment provider should be able to provide aids to make your experience more comfortable.
Number of treatments needed is dependent on variables such as ink characteristics, size of tattoo,
location on body, and lifestyle habits.
Treatments typically occur every 6-8 weeks and your treatment provider will develop a treatment plan to meet your individual needs.
Patients and treatment providers have reported better clearance (disappearance) of tattoos with improved recovery time. You can expect excellent results with PICOSURE.
Tattoo Removal Before & After
Tattoo Removal
Before & After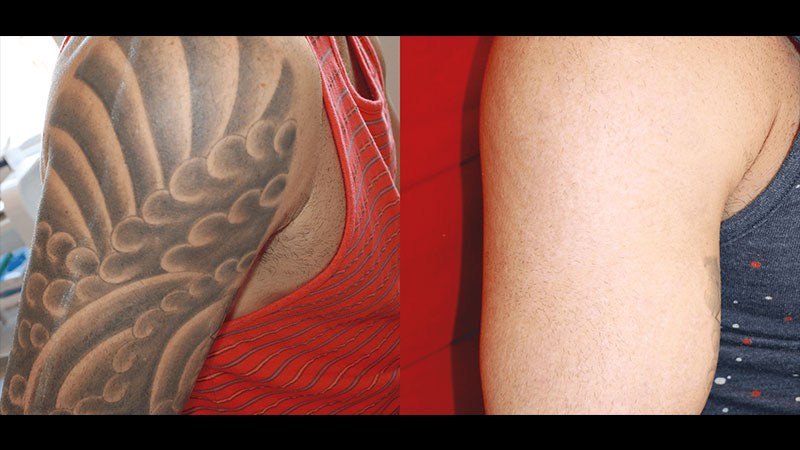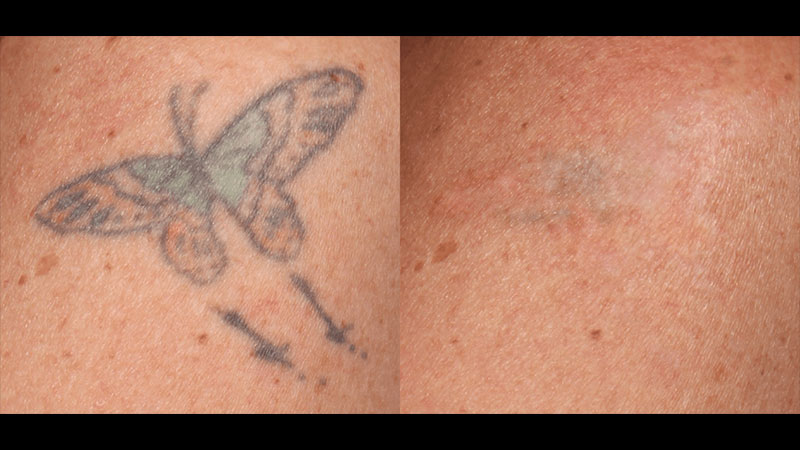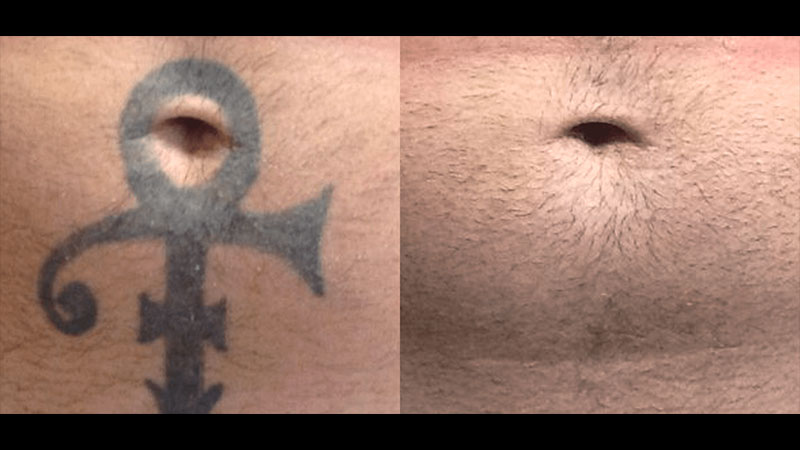 SkinPen
Microneedling Treatment
The SkinPen microneedling treatment is a customizable solution that's designed for you. Whether you want to tighten and firm your skin, minimize the common signs of aging or reduce blemishes, you'll unleash your skin's potential after only a few treatments.
The SkinPen microneedling treatment uses ultrafine needles to penetrate the top layer of the skin and trigger the body's natural healing process to regenerate new collagen and elastin. Unlike some other skin revitalization treatments, these treatments can be performed on all skin types, anywhere on the body and anytime of the year.
High Quality & Professional Peels
Illuminize, Rejuvenize, and Vitalize your skin with these peels. Assist with diminishing fines lines and wrinkles, sun damage, uneven tone, roughness, and blemishes with this peel system. Healthy, radiant skin and a more uniform complexion can be accomplished. A series of 3 to 6 is recommended for optimal results.
Cleanse, extract, hydrate, infuse, and protect your skin with this refreshing treatment. A patient specific serum to cleanse and infuse is specially selected. The HydroDerm Facial helps to increase elasticity, firmness, vibrancy, and fine lines; while decreasing skin texture, enlarged pores, oiliness and congestion.
Simple & Safe Procedure For Exfoliating
This quick, yet effective treatment is the perfect pick-me-up for anyone! Key benefits aid in diminishing fine lines and wrinkles, removes dead skin cells and peach fuzz from the face for increased product absorption, and smoother makeup application. You will leave feeling refreshed.